Submitted by Sabrina Thomas
Comparatively speaking, I'm a rookie cow horse rider.  I've ridden all types of horses my whole life, all 34 years of it, but cow horses reignited my passion in horses like nothing else has before. Here are my top 8 reasons to chap up and ride a cow horse.
8. The Tradition
The tradition of the cow horse traces back to an early time in the western United States and Mexico when a brave, trustworthy, and intelligent horse was not an option, but a necessity. Vaquero tradition stipulated a fast, surefooted horse with cow sense was the ideal for ranching and daily work in the early days of the Californios.
Fast forward 100 years and the National Reined Cow Horse Association was formed in 1949 in order to preserve, educate and promote the tradition of the cow horse.  In most places, quality cow horses have gone from a necessity to a luxury. The difference in a show fit colt and a "day using" horse is obvious, but all good cow horses carry the same high qualities of honesty, bravery, strength and cow that has been breed into them for centuries now.
7. Amazing Tack
 Douglas Krause makes mecates, then uses them daily.  That's how he knows they work; they feel right and hold up to expectations.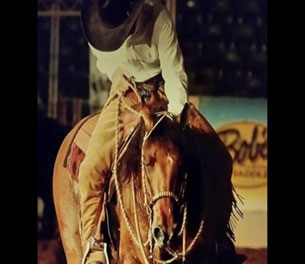 Douglas is a perfectionist.  His mecates, or long ropes, are made of 100% horse hair and patterned beautifully to match current styles and still be traditional.  They are used for hackamore, snaffle bit, and two-rein bridles.  Quality craftsmanship is the key to good tack.
Silver spade bits look like a cruel piece of machinery to the untrained eye, but only the finest, most broke horses will ever wear one in the show ring. The hand braided rawhide romal reins only move inches at a time to get a response for the horse that carries them.  Younger horses are ridden in hand braided bosals that seem to almost dangle off their nose. The real youngsters run in smooth snaffle bits with silver adorned headstalls and long swinging leather reins. 
Riders often wear hand tooled custom chaps or chinks in muted earth tone colors dotted with silver conchos. Crisp starched button up shirts and gleaming belt buckles are part of the attire, as is a well shaped cowboy hat, generally carrying some arena dust for good luck. 
There's fringe, buckles, and leather everywhere, but somehow it all comes together into one neat, professional and utterly western physique.
6. Horsemanship
Reined Cow Horse is the western equivalent of English eventing.  Bright eyed 3 year old futurity horses compete in cutting, or herd work, reining, and then fence work.  Training a young horse to be show ready in one event is hard enough, try training yourself and that waspy little critter for all three events! I actually competed for the first time in the reined cow horse futurities this year.
I work from home, but ask anyone who knows me…I spent 40 hours a week messing with this 3 year old gelding.  He was my full time job. I rode him, washed him, and hauled him. I had long serious talks with him.  I'm not the trainer, other people stepped in and fixed my mistakes…daily.
But soon enough I had a really nice horse; dare I say, an almost traditional cow horse. He was tough and sure footed and confident, more so than I was most days.  He bridled up when I asked him but was independent enough to think on his own. He did flying lead changes flawlessly in the show pen. And after my 40 hour a week job culminated in the photo above, I truly appreciated what goes into real horsemanship.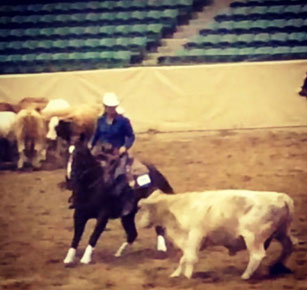 5. Stopping Hard…
This is a difficult one. Reiners make it look so flawless; leaving 20 foot slide marks in fluffy sand, sitting proudly on their mount with the reins tossed to wind.  For some reason this idea was almost physically impossible for me to grasp. I won't blame it on my prior rodeo experience, or the fact that I just don't have a lot of anchor weight back there.  It's a muscle memory issue and I just like to grab my horse with my eagle-talon-like spurs every time he stopped. Every. Time.
But there's nothing more satisfying than overcoming an obstacle. Especially one that threatens to launch you out of your saddle if you don't stop spurring it.
Cow horse events have a lot of stopping. Some stops are planned, others not so much.  Learn to take a few hits from the front of your saddle, that's what it's there for right?
4. …And Going Fast
We will get to the cattle next.  First lets talk about speed. Did I mention that cow horses also have to be fast? They need to be fast enough to carry us, decked out in our finest, and still beat a robust yearling heifer on a possible dead run. Loping a large fast circle in a reining pattern is the warm up for what comes next.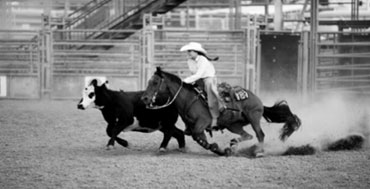 Ideally cattle would casually lope down the fence line, let you slide up along side them and turn them back into the arena fence with no problems. Realistically, cattle have their own agenda. More often than not, it includes going at an eye watering speed down the arena, sometimes darting out in front of you.  They're fast, and your horse needs to be as well. But when it all comes together and you match that racey little heifer and take that first aggressive step to turn her around, you'll be hooked. So this would be a good time to use the spurs if needed.
3.  The Cattle
Cow horses are just fancy trail ponies without cattle.  It can take hundreds of cattle to put on a cow horse show. Current market conditions, weather, feed and transportation availability all determine if a cow horse show can be possible.  In order to make a fair playing field for everyone, cattle should be uniform in size and weight.  I've seen woolly English breeds, wild, long legged Brahma cross breeds, even roping and dairy stock to fill the gaps. It takes a village to gather all the cattle needed for a show, and they're not cheap to use. But the feeling of your horse locking on to that steer or heifer when it steps into the arena is addictive.  You stop watching your horse and for the next 2 minutes your eyes can't come off that bovine…
2. The Horses
…And neither should your horse's. Just like race horses are bred to run, cow horses are bred to watch a cow. It's fundamental to what they are and they love it.  A hall of fame was established to recognize and remember the foundation sires and mares that created some of the amazing horses we are privileged to ride currently. King Fritz, Smokum Oak, and Reminic are just three of the exceptional stallions that are present in bloodlines of our current show horses. The mares are equally outstanding. Lil Miss Smarty Chex and Fillinic were not only winners in the arena but were cornerstones to breeding programs. They produced winners with eye appeal, grit, and enough cow sense to spare.
The horses we ride today owe their ability to the breeding programs created a half a century ago. They continue to be more athletic, more intelligent, and more trainable every year.
1. The People
I showed in my first national level futurity show in Paso Robles, California in August of this year. I walked my little gelding into the herd work late in the day. It was hot and everyone was tired.  In the herd work though, you're not entirely alone.  I had Hall of Fame Million Dollar riders Doug Williams and Teddy Robinson in my corners.  They helped me make a clean cut out of the herd and told me when to get off the cow I was working.  They didn't have to stick around to help the non pro riders like myself, but they did…all day.  Again in Reno, Nevada at the Snaffle Bit Futurity, two time World's Greatest Horsemen Ron Emmons and NSHA World's Richest Fence Work winner Mark Luis stepped into the corners for me. There is no shortage of help and encouragement from the seasoned veterans.  They want to see the rookies  like myself succeed.  They want us to compete. We are the future of the sport.
I've competed and ridden in many different events and traveled all over the western United States. I have never met a better group of horse people than I have showing cow horses.  So that is my number one reason to ride a cow horse. The people make the experience.